Skip to Content
Commercial Audio-Video Solutions in Southeastern MA
Help Inc Has Business Audio-Video Solutions for You
For over 35 years, Help Inc has been supplying businesses with commercial audio-video solutions throughout Southeastern MA to go along with our extensive commercial security offerings. We pride ourselves on our family-oriented company, where we treat every client with the familiarity you deserve when working with a trusted business like ours. Whether you have a small job or a large, complete building project, we are here to answer your call. We are one of the only AV companies in the region with an interactive showroom allowing you to see and test products before deciding which ones are best for you.
Choose Your Office Audio Video Solution
Our audio-video systems are designed with the client in mind. We take a consultative approach to help you understand what products are available, their capabilities and benefits, and how they can work together to help you achieve your company's goals. What AV solution will help your business be more efficient and productive?
Distributed Audio – Restaurants, hotels, and other hospitality businesses utilize distributed audio to send music and other forms of sound to multiple speakers throughout the venue or property. You can control the volume separately and change audio easily from one central location.
Video Distribution – Similar to distributed audio, commercial spaces with multiple screens or monitors can display the same images or video throughout with a centralized video system for ultimate convenience and control.
Conference Rooms – Presentations, meetings, and training are considerably more productive and engaging with our business audio-video solutions. Employees, clients, and guests will be incredibly impressed with the professionalism that comes with these systems.
Commercial Automation – Smart home technology isn't confined to residential settings. We offer a complete line of commercial automation solutions to help your company run more efficiently while saving money on energy consumption and resources. From lights and sound to other appliances and electronic functions, you can conveniently control connected systems even when you're not on location.
Video Conferencing – In today's professional world of remote employees and home offices, having a reliable and crystal-clear video conferencing system is essential. From one-on-one meetings to group presentations with screen-sharing options, we can equip your company with everything you need to be successful.
Wireless Presentation Systems – You can increase productivity and promote collaboration when your business is equipped with an innovative wireless presentation system. These products offer mobility and allow employees to make presentations anywhere without waiting for a conference room.
Intercom and Paging – If you have employees who are constantly on the move or navigating lots of square footage, intercom and paging systems can help you track down key individuals in the most critical times.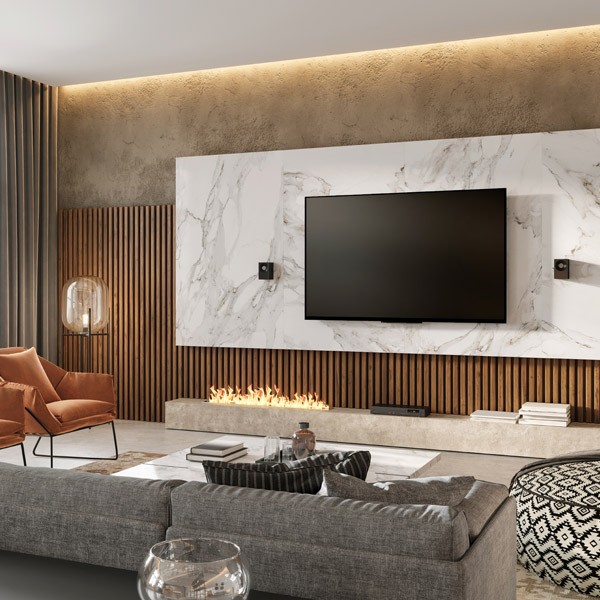 We Have Corporate Audio Video Solutions for Every Industry
Our team is passionate about providing business owners with the tools they need to be safe and productive, and you can see some of our work here. No matter your industry, we can offer a customized system to meet your needs. We work with:
Restaurants and Bars
Hotels
Private Office Parks
Churches
Convention Spaces
Meeting Rooms
Health and Fitness Clubs
Assisted Living Facilities
Educational Facilities
Benefits of Professional AV Installation
We offer limitless options to help you get the most out of your workspace. Our team outfits conference rooms, huddle spaces, bars, and restaurants with integrated systems that include background music, video displays, video conferencing, and paging systems. Your business will thrive, operate more efficiently, keep employees engaged, and offer a smoother client experience.
Why Choose Us?
Help Inc is the best choice for your commercial needs because of our dedication to client satisfaction, down-to-earth mentality, and years of experience. We have many excellent customer reviews to back up our work, and you can always expect:
Our decades of experience in completing work to your satisfaction
Licensed and insured technicians
A highly trained team
24/7 service
Long-term customer relationships
Learn More About Our Commercial AV Products
Looking for audio video solutions in Southeastern MA? Look no further than Help Inc. We specialize in offering commercial and residential AV and security products that outperform your expectations. We work with the most respected names in audio-video technology and can help you plan the perfect system for your business. Contact us to learn more today.
Wireless Presentations Systems
Contact Us for a Consultation Today