Skip to Content
Residential Audio and Video Services in Southeast Massachusetts and Rhode Island
Enrich Your Viewing Experience
Help Inc. provides residential audio and video installation and integration solutions in Southeast Massachusetts and Rhode Island. Our services are designed to optimize your home entertainment experience by amplifying your audio and video systems with user-friendly smart home controls, convenient multi-room features, and sound and visual effects that rival the local cinema.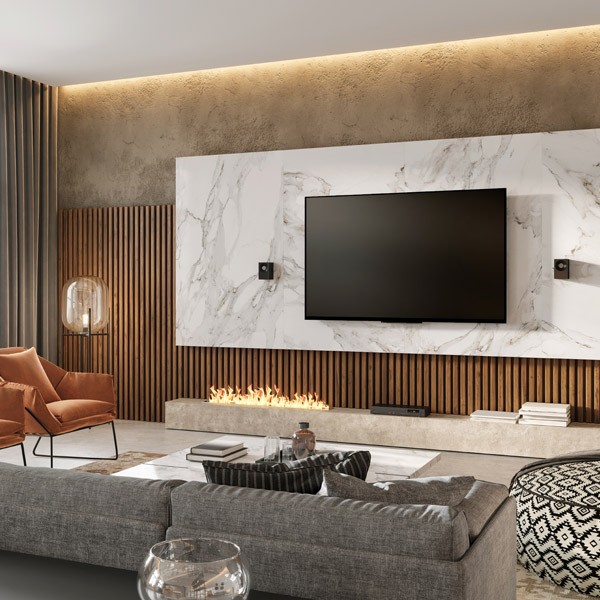 Multi-Room Audio
Enjoy the convenience of accessing your audio system from any room in your home with our multi-room audio solutions. Our audio enhancements seamlessly connect to your smart devices, enabling you to control the sound without moving. Whether you're looking to entertain your guests with the same music indoors and out or allow your kids to listen to their favorites as you listen to yours, our multi-room solutions facilitate your audio experience.
Residential Audio and Video Installation Services
Enjoy your favorite movies, television, music, and sports with high-definition video and audio with our custom home entertainment automation services. Whether you're looking to outfit one room, multiple rooms, or an outdoor space with a home theater, our experts are equipped to install, integrate, or maintain the home entertainment system of your dreams.
Video Installation Services
Our smart TV systems enhance any living space. With the latest in HD flat screen technology from OLED, LCD, and LED, your family can enjoy the clearest picture with a resolution of up to 8k, guaranteeing an authentic cinematic experience. We also offer the latest projection systems, allowing for expansive screen sizes and unrivaled picture clarity.
Audio Installation Services
No entertainment system is complete without innovative audio technology that allows you to experience your entertainment as the director intended. We incorporate the speakers, amplification, and system controls that meet your specific needs, ensuring your audio experience surpasses your expectations. Our high-quality audio equipment is designed to blend into your decor, eliminating the eyesores of traditional speakers.
Protect Your Investment With Residential Safety Solutions
A home that's fully equipped with exceptional audio and video entertainment solutions is an investment that merits added safeguarding. Ensure your residential property has optimal protection with the help of our dependable safety solutions, including fire protection services and home security systems that offer 24/7 surveillance and prompt response when you need it most.
Amplify Your Home With Help Inc.
Trust our experts to create a custom home entertainment system that suits your lifestyle, fully loaded with user-friendly controls, exceptional picture, and high-quality audio that changes how you experience home entertainment. Contact our friendly professionals today to learn more about Help Inc.'s outstanding audio-video solutions.
Contact Us for a Consultation Today